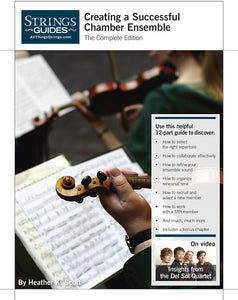 Creating a Successful Chamber Ensemble: Complete Edition
Want to start an ensemble but can't quite get past that first step? Then work with this Strings guide to learn how to form and manage a successful chamber ensemble. From selecting a name to choosing the best repertoire, this handy collection of lessons, presented by some of today's top groups, is sure to create a smooth beginning. Includes:
You'll also enjoy expert advice with valuable insights from the Del Sol Quartet on video.
By Heather K. Scott
---
More from this collection