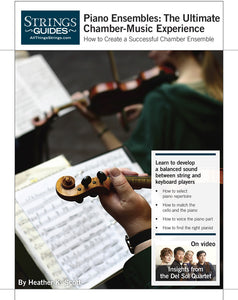 Creating a Successful Chamber Ensemble: Piano Ensembles—Ultimate Chamber Experience
Use this helpful guide to discover:
How to achieve a balanced sound between string and keyboard players. 
How to select piano repertoire and how to match the piano and cello. 
How to voice the piano part and discover how to find the correct pianist. 
Also includes insights from the Del Sol Quartet on video. 
By Heather K. Scott
---
More from this collection