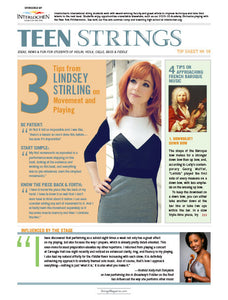 Teen Strings Tip Sheet #10: 3 Tips from Lindsey Stirling on Movement and Playing
Teen Strings Tip Sheets get young string players excited and inspired about making music.
This edition (sponsored by Interlochen Center for the Arts) includes 3 tips from Lindsey Stirling on incorporating movement into your playing, 4 tips on how to approach Baroque music, violinist Kelly-Hall Tompkins talks performing live on Broadway, Strings contributor Laurel Thomsen on how to master the perfect violin or viola bow grip, and more.
Teachers take note: download Teen Strings Tip Sheets for free and share them with all your students. And feel free to make as many copies as you like.
---
More from this collection