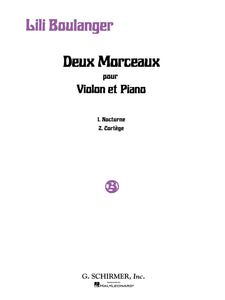 Nocturne and Cortège – Lili Boulanger
For the November-December 2023 issue, Strings magazine's Editor Megan Westberg writes about cellist Alexander Hersh's new project, Absinthe, which raises a glass to that particular verdant spirit. All of the repertoire on the album - including an arrangement of Lili Boulanger's Nocturne (1911) - was written around the time in which bans of absinthe were sweeping Europe and, indeed, the world.
Nadia and Lili Boulanger weren't only tied to the time period but also inescapably to each other. "I think it's really cool to see two sisters' work from a very similar time period," Hersh says. "The pieces are written three years apart, and Nadia lived a very long time [Lili died at just 24] and is known as a pedagogue and taught so many wonderful composers who came after, but there's something cool about the family connection and the two of them writing that I just really liked."
This arrangement, published by G. Schirmer, Inc., is for violin and piano.
---
More from this collection