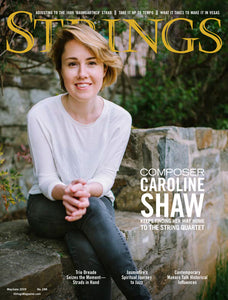 No. 288, May/June 2019
Finding a Way Back to the Garden
Exploring Caroline Shaw's music 
for string quartet
By Thomas May
Three's Company
Seizing the moment, Trio Oreade records Mozart's 'Divertimento' on three Strads 
By Cristina Schreil
Beyond Jazz
Part spiritual journey, part art project, violinist-violist Jasminfire's first solo record explores her happiest highs and deepest lows following death and transformation
By Cristina Schreil
Editor's Note
News & Notes
Marin Alsop on why she's optimistic about the future of classical music—and a year of Beethoven; 5 Minutes with . . . Anne-Sophie Mutter, and more
First Person
A case of mistaken identity
Shop Talk
Luthier Antoine Nédélec on what he learned from a 1704 Strad violin
What's in the Case?
Violinist Emma Meinrenken opens up about breaking in the 1689 'Baumgartner' Strad
New Products
A look at Yamaha's latest student 
acoustic violin
On My Music Stand
Cellist Laura van der Heijden on the optimism within Prokofiev's sonata

Rep Prep
Approaching rhythm in Édouard Lalo's Sonata for Cello and Piano in A minor
Tech Support
Playing up to tempo with your 
musicianship intact
My Studio
How a student's struggles with rhythm taught me a new way to teach
Stage & Studio
In this gig economy, Las Vegas musicians need to summon versatility, professionalism, and a whole lot of glam
REVIEWS
For the Record: Violinist Philippe Graffin on completing 
and recording an unknown Ysaÿe sonata. In Print: These pieces by Joseph Joachim are delightful gems, and more.
---
More from this collection