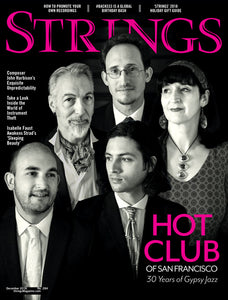 No. 284, December 2018
Special Focus: Holiday Gift Guide
Hot Stuff
The Hot Club of San Francisco turns 30—and turns up the heat
By Greg Cahill
Loss Prevention
A look into the world of instrument theft
By Brian Wise
Predictably Unpredictable
John Harbison finds ever more creative avenues
By Thomas May
Holiday Gifts Made Easy
Some gift suggestions for the other string players in your life
By Stephanie Powell and Megan Westberg
Season of Giving
Seven players on the best gifts they've ever given to their string-playing friends and family
Compiled by Stephanie Powell
Editor's Note
News & Notes
Sphinx Organization announces 2019 Medal of Excellence recipients; plus Milestones; 5 Minutes with . . . Ascenté Chamber Orchestra teacher Kelly Flynn, and more
Letter from #Bach333
Celebrating Bach's 333rd birthday in 3 cities in 3 countries on 3 continents—in 5 days
Letter from Africa
Looking back at the Minnesota Orchestra's August 2018 tour of South Africa
Shop Talk
Violin maker Jay Ifshin on the bow that got away
What's in the Case?
The sound of Isabelle Faust's 'Sleeping Beauty' Stradivari is truly the stuff of fairy tales
Tales of the Trade
Susanne Küster's vivid scrolls personalize Baroque instruments
New Products
Pirastro offers its Perpetual strings for violin and launches a new set for cello
On My Music Stand
The Solera Quartet on the uninhibited artistry of Caroline Shaw's 'Entr'acte'
Rep Prep
A rhythmic approach to 'Receita de Samba'
Stage & Studio
5 tips on promoting your own recordings
REVIEWS
For the Record: Violinist James Ehnes on three powerful and personal commissions. In Print: Bärenreiter's new edition of Mendelssohn's Violin Concerto offers an informative review of era-specific performance practice, and more.
---
More from this collection