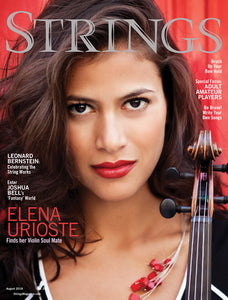 No. 280, August 2018
A New World
On the benefits of starting cello lessons at age 63
By Judy Pollard Smith
Lifelong Wish
It's never too late to pick up an instrument—here are 5 tips for adult beginners
By Miranda Wilson
Better Together
Encouragement and advice for advancing amateur orchestral musicians
By Emily Wright
How to Start an Adult Chamber-Music Ensemble
These tips can help ensure a successful experience
By Greg Cahill
Leonard Bernstein at 100
Celebrating the legendary composer-conductor's string works and unbridled loyalty to the music
By Thomas May
Journey to the Highlands
Joshua Bell's new recording with the Academy of St Martin in the Fields pairs Bruch's Violin Concerto No. 1 with 'Scottish Fantasy'
By Inge Kjemtrup
Prized Possessions
String players and makers on their most sentimental string-related items
Compiled by Stephanie Powell & Megan Westberg
Editor's Note
News & Notes
Cellist Sheku Kanneh-Mason performs at the royal wedding; plus Milestones; 5 Minutes with Roberto Díaz, and more
Letter From India
Violinist Cassandra Sotos on touring in India and South Africa with Bollywood star Arijit Singh
Shop Talk
Violin and viol maker Gabriela Guadalajara on her varnishing process
What's in the Case?
Violinist Elena Urioste discusses her 1706 Alessandro Gagliano
Your Instrument
A well-made peg is a thing of beauty, not just function
New Products
Gewa partners with Ray Chen on a signature case, and more
On My Music Stand
Violist Clifton Harrison on the timeless qualities of Ives' String Quartet No. 2
Tech Support
Developing structure and flexibility in your bow hold
My Studio
Achieving all my professional goals made me realize I had chosen the wrong profession
Stage & Studio
Songwriting advice from Carrie Rodriguez, Amanda Shires, and Carla Kihlstedt
REVIEWS
For the Record: Duo Gazzana on the premiere recording of Ligeti's 'Duo' for violin and piano. In Print: Gershwin's 'Lullaby' blends classical and jazz for string quartet, and more.
---
More from this collection