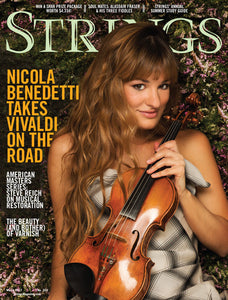 No. 263, March 2017
Learning Italian
Violinist Nicola Benedetti advocates for the richness of Baroque music as her US tour of Vivaldi with the Venice Baroque Orchestra is set to kick off
By Inge Kjemtrup
Generations Ahead
Composer Steve Reich's Three Generations series will illustrate the sea change in compositional language ventured by Reich and his peers and carried forward by younger generations
By Thomas May
SPECIAL FOCUS
Summer Study Guide
7 Programs to Fit Your String-Playing Lifestyle
Summer study programs are not one-size-fits-all. Find one that complements your own playing personality
By Louise Lee
Going Global
Learning style through immersion at the Global String Intensive at Berklee College of Music
By Sarah Freiberg
Summer Idyll
The benefits of scoring a dream residency at the Avaloch Farm Music Institute
By Leah Hollingsworth
Editor's Note
News & Notes
Jan Vogler re-records the Schumann Cello Concerto with gut strings; Andrew Norman wins the 2017 Grawemeyer Award for music composition; plus Milestones, 5 minutes with Juilliard president Joseph Polisi, and more
First Person
Tackling a musical marathon—and an actual marathon—all in one day
Curtain Call
Violist Paul Coletti on the wistful sorrow of Schubert's Arpeggione Sonata
What's in the Case?
Fiddler Alasdair Fraser on his three fiddles and their distinct voices
Tales of the Trade
Luthier Timothy Johnson makes ancient instruments for the contemporary player
Your Instrument
Violin varnish is a thing of beauty, but not of protective strength
New Products
Jimenez Mariachi violins; IK Multimedia's Tablet Page Turner Bundle; and the C-Music EggMATE
On My Music Stand
Violinist Esther Yoo tackles two pieces
My Studio
For a string teacher to grow, sometimes the student needs to become the teacher
Rep Prep
Kreisler's 'Praeludium and Allegro' requires mastering extended techniques in both hands
Stage & Studio
Programs suited for the aspiring or seasoned composer are just a click away
REVIEWS
For the Record: Lyris Quartet uses Janáček's 'Intimate Letters' as a springboard on its latest album. In Print: Tchaikovsky's Valse-Scherzo deserves its worldwide admiration, and more.
---
More from this collection