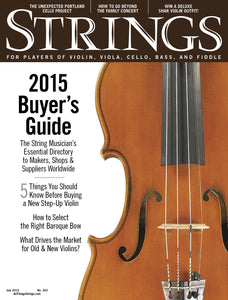 No. 243, July 2015
Music in the Air, Music All Around Us 
Living in the afterglow of a week of Elgar in London with the Manhattan String Quartet 
By Inge Kjemtrup
Keep Cello Weird 
Portland Cello Project follows its passion to unexpected places
By Whitney Phaneuf
SPECIAL FOCUS: 2015 Buyer's Guide
 Emotions & Market Forces
An inside look at the many factors that can affect the value of old and new violins 
By Philip J. Kass
Finding Your Next-Level Sound
5 tips on buying a step-up instrument 
By Patrick Sullivan
How to Select the Right Baroque Bow
With the rising popularity of early music, it's never been easier to find a great Baroque bow
By Sarah Freiberg
2015 Buyer's Guide Directory
The string musician's essential directory to makers, shops & suppliers worldwide
News & Notes
Ready for prime time—former Ying Quartet violinist fills NY Phil concertmaster post; the Minnesota Orchestra heads for Cuba; Global HeartStrings to send donation to Haiti; and more; plus Milestones, and 5 minutes with bassist Kristen Bruya
News Spotlight
French ensemble dominates London's premier string-quartet competition
First Person
Rediscovering the music of Joseph Bologne, Le Chevalier de St. George
Letter from Trinidad & Tobago
A week in the Caribbean is good for the soul—and the music
 Wise Words
Richard Greene on the nature of fiddling
Strings 101
2 simple steps to help alleviate performance jitters
 Play It!
Escape to the Emerald Isle with 'South Wind,' a classic ballad arranged for violin and cello
Master Class
In appreciation of César Franck's Sonata for violin and piano 
Practical Musician
Serafin String Quartet shows how to go beyond the family concert
Teaching Strings
When approaching a tricky new piece, it helps to be systematic
Strings Trade
Spring 2015 auction results; dealer coughs up cash to avoid prison; forthcoming book celebrates the American violin; and more
Your Instrument
A few simple tricks to help keep your bridge healthy and warp-free 
Ask the Expert
Can you fix a dead spot in a bow?
What's in the Case?
Elizabeth Blumenstock's 1660 Andrea Guarneri inspires confidence, sincerity, and endurance
Reviews
On Record: Pieter Wispelwey's 'Rococo Variations' yields raw emotions; and more In Print: Early quartet discarded by Dvorak reveals his first steps toward mastery
---
More from this collection