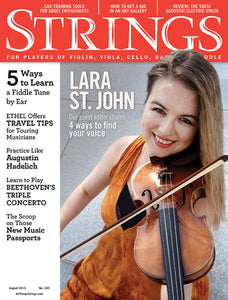 No. 220, August 2013
A Concerto in Which 3 Great Instruments Stand Shoulder to Shoulder
Contemplating the majesty of Beethoven's Triple Concerto for violin, cello, and piano— prepare for an ecstatic rock fest in the finale with a Gypsy twist. 
Mixed Media
Chamber players and string soloists find rich performance opportunities at the nation's landmark museums and art galleries.
Special Focus: Lara St. John on the Art of Interpretation
Be a Better String Player
4 ways to improve your ability to express yourself onstage: Learn the art of relaxation (p 45), consistency (p 47), confidence (p 50), and questioning (p 52). How to stay calm under pressure; do the work beforehand, so you can enjoy your performance; get rid of your doubt; and fulfill your potential as an interpreter
Practice Makes Perfect
Daily practice tips: Violinist Augustin Hadelich on avoiding mindless repetition.
News & Notes
Bassist Karl E. H. Seigfried on music and Norse mythology; Yo-Yo Ma joins former Guns N' Roses drummer Matt Sorum; the CSO goes directly to jail; and more; plus News Briefs, Milestones, and 5 Minutes with violinist Benjamin Schmid.
Strings 101
Move beyond notation. Simple techniques that can help you develop your ear.
Master Class
How Mozart's Sonata in F major for piano and violin, K. 376 changed chamber music forever.
Practical Musician
ETHEL's 12 travel tips to ease the pain of your first professional road trip.
Teaching Strings
Listen up! Learn these ear-training tools for adult students.
On My Music Stand
Seán Smyth: The acoustic band Lunasa melds the trad and classical worlds.
Strings Trade
A violin of composite linen; dealer sued for missing $400,000 violin; inside the "he said, she said" Montagnana cello-sale suit; and April and May 2013 auction results; plus Bench Marks.
Strings Trade Spotlight
Navigating the musical-instrument passport program: what string players need to know about the new regulations.
Your Instrument
9 tips for getting your child a good student instrument.
Ask the Experts
Is there a safe way to clean dirty bow hair?
Shop Visit
Rockin' Rosin offers sticky cakes in whimsical shapes.
What's in the Case?
Exploring Dana Leong's high-flying Yamaha Silent Cello.
New Products
The Volta Standard 4-string acoustic-electric violin; the Jay Haide Bajoni viola; the Frirsz bass tailpiece; and a Fritz Kreisler bust.
---
More from this collection