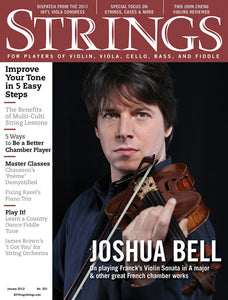 No. 201, January 2012
'Aldridge: Samba!'
'Aldridge: Samba!' for clarinet in B-flat, 2 violins, viola, and violoncello. Edition Peters, score and parts, $15.95.  
'Dünser: The Garden of Desires'
'Dünser: The Garden of Desires' for cello and piano. Edition Peters, £17.95. 
'Mozart: Divertimento, KV 525: "Ein Kleine Nachtmusik"'
'Mozart: Divertimento, KV 525: "Ein Kleine Nachtmusik."' Edited by Wolf-Dieter Seiffert. Urtext edition. G. Henle Verlag, parts €16, study score €8 
'Shuffle. Play. Listen.'
Cellist Matt Haimovitz and pianist Christopher O'Riley blend pop and classical covers 
'The Advancing Cellist's Handbook'
The Advancing Cellist's Handbook by Benjamin Whitcomb. AuthorHouse, $19.95.
1st Annual Contemporary Violin Makers Exhibition
Debut exhibit features instruments from contemporary makers, including Joseph Curtin, Jeff Phillips, and David Wiebe. 
4,645 Violins a-Playing
A large group of Taiwanese students set a new record for most violins played at once.
5 Minutes With Fiddler April Verch
Canadian fiddler April Verch releases That's How We Run (Compass), explores Southern mountain traditions   
5 Ways to Make the Most Out of Your Rehearsal Time
How to enhance a professional ensemble's practice techniques
A Soulful Tune to Get Audiences Feeling Good
This string-orchestra arrangement of a James Brown classic teaches contemporary technique to the tune of funk
Are Tuning Forks The Best for Tuning Your Violin?
Getting your strings in tune with a tuning fork
Beethoven: 10 Sonatas for Violin and Piano.
Henri Temianka, violin; and Leonard Shure, piano. (Doremi)
Blast Cult One4Five Bass
Road-ready laminated upright basses
Bow Hair Care Tips
Maintaining proper bow hair is as easy as 1, 2, 3   
Building a Better Strad

Control the Contact Point to Produce Better Tone
Achieving pure sound requires different points of contact, or 'sounding points'
Curtis Opens Lenfest Hall
Hi-tech performance space and more at new facility
Fender Acoustasonic 100 acoustic combo amp

Fiddle Globally, Build Locally 
A luthier builds a fiddle from local woods  
Filmmakers Pick a New (Cellist) Bond Girl

Get Smart About Your Violin Case
3 common scenarios for carrying an instrument, with case solutions to match
How Does a Cellist Spend a Half-Million-Dollar Grant?
Alisa Weilerstein on the significance of her MacArthur Fellowship
How to Play Chausson's 'Poème' for Violin & Orchestra
This work can be elusive, but with a little practice you can master its enigmatic nature
Introducing Multicultural Music to Your String Music Program
It's all in the rhythm: keep students engaged by livening up the traditional repertoire
Jack Fry, RIP
Physicist and violin acoustics researcher William "Jack" Fry, 89, died July 18. Some of his research on Italian violins was featured in the PBS-TV Nova special "The Great Violin Mystery."
Jargar Superior Cello A String

John Cheng Violins Make Strong Showing in Competitive Field
Step-up violins are well made from quality tonewoods
Jonathan Crow Named New TSO Concertmaster
Jonathan Crow has begun his tenure as concertmaster with the Toronto Symphony Orchestra. As a result, he has gained access to the symphony's 1738 Guarneri del Gesù.  
 Joshua Bell Discusses French Chamber Works
Ask Joshua Bell about Franck's violin sonata in a major—recorded on his new CD of French chamber works—and the superstar violinist declares: 'I own it!'
Learn a Country Dance Fiddle Tune from Western Canada
This transcription of a Frankie Rodgers tune comes by way of fiddle champ Calvin Vollrath
Luthier Senses the Sweet Smell of a Varnish 'Epiphany'
Violin making is full of revelations for California luthier David Morse
Maxim Rysanov Plays Schubert, Tchaikovsky, and Bruch
Maxim Rysanov, viola; Svenska Kammarorkestern, Muhai Tang, cond. (BIS)
MOMA's New Website Features Amazing Instruments
New York's Metropolitan Museum of Art launched its website with new instrument collection photos, including a ca. 1560 Andrea Amati violin and the 1714 "Batta-Piatigorsky" Stradivari cello. metmuseum.org  
Mondomusica 2011 in Cremona, Italy
Guadagnini's 300th anniversary and several new books top the trade show's highlights
Montreal Gets New Music Venue
Orchestre Symphonique de Montreal Finds a New Home
Morlot Picks Up the Baton

Mutter Opens Boston Symphony Orchestra 2011-22012 concert season
The violinist is in charge
New CD Explores Depth & Breadth of African-American Compositional Legacy
Concert violinist and educator Tami C. Lee Hughes records classical music spanning nearly 200 years
On Stage: Calders Showcase Modern Works at an LA Concert
Pianist Gabriel Kahane joins string quartet for a night of cutting-edge chamber works
On Stage: NCCO Kicks Off Its 20th Anniversary Season
Anniversary season marks reunion for past music directors
On Stage: Spirit of Steve Jobs Lives On at Bargemusic
Let's get digital: Cornelius Dufallo teams up with his Apple laptop
Resolving Tempo and Structure Problems in the Ravel Trio
Or why your Ravel Trio is too slow and how to fix it
San Francisco Symphony Celebrates 100th Birthday

Seattle Symphony Names New Cellist & Other Milestones

This 1849 Vuillaume cello Is Not a Morning Person
The Claremont Trio's Julia Bruskin plays a cello that resonates with the music it has played   
Tobias Picker Retrospective

Violatopia Reigns Supreme at The 2011 Int'l Viola Congress 
Hochschule für Musik in Würzburg, Germany, hosts gathering of world-wise inner voices   
Viva la (Violin) Revolución

What You Need To Know If You're Switching To Gut Strings
Don't Let Misconceptions Keep You Away from Gut Strings
You Had Me at 'One of Prokofiev's Most Moving Melodies'
Written for Rostropovich, this cello work is challenging but worth the effort.
---
More from this collection