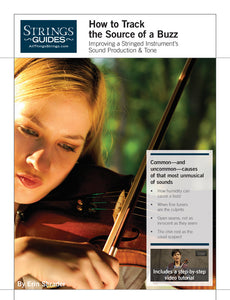 Improving a Stringed Instrument's Sound Production & Tone: How to Track the Source of a Buzz
Use this helpful guide to:
Learn about common—and uncommon—causes of that most unmusical of sounds. 
Understand how humidity can cause a buzz. 
Find out whether fine tuners, open seams, or the chin rest is the cause. 
Includes a step-by-step video tutorial.
By Erin Shrader and Joan Balter
---
More from this collection