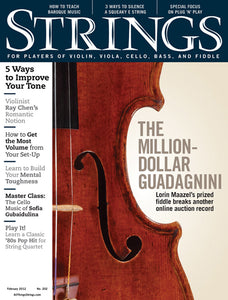 No. 202, February 2012
2012 Oberlin Workshops

3 Reasons to Start a Baroque Ensemble at Your School  
Playing ancient music can optimize learning in the modern classroom  
4 Ways to Enhance Your Head Game
Juilliard psychologist suggests 4 ways to build your mental muscle
5 Minutes With . . .
Violist and early-music specialist Elizabeth Weinfield can be heard on the newly released CD Gregory Spears: Requiem
6 Essential Effects: From Metal to Magic
How effects can help shape your voice
7 Ways to Recruit a New Chamber Ensemble Member
Learn to survive—and thrive—after a member bids adieu
A Notebook for Viola Players
By Ivo-Jan van der Werff. Kingsley Literary Services, $30
A String-Quartet Arrangement You Won't Be Able to Forget
Immortalized in a classic '80s movie, Simple Minds' 'Don't You (Forget About Me)' finds its groove decades later  
Art of Sound Competition 
Aural Training in Practice, ABRSM Grades 1–3, 4 & 5 
John Holmes and Nigel Scaife. ABSRM, $29.95.
Background Trios for Strings, Volume 1, Violin A, Viola B, Cello C
Greenblatt & Seay, $25 set; $9 per part.
Beantown Finds a New Edge

Beethoven: The Late String Quartets, Opp. 127 and 131
Brentano Quartet. (Aeon)
Berlioz: Harold In Italy; Paganini: Sonata Per La Gran Viola E Orchestra, Op.35.
David Aaron Carpenter, viola; Helsinki Philharmonic Orchestra, Vladimir Ashkenazy, cond. (Ondine)
Chamber Music Gets a Boost in South Korea
David Finckel co-hosts chamber music program
Choosing a Bow for Your Plugged-In Instrument
Why a carbon-fiber bow may be your electric fiddle's best friend
Class Acts: String Students in the News
Spotlight on violinist Brian Hong, cellist Chas Barnard & violinist Yolanda Bruno
Concert Artist Guild Award

David Oistrakh Plays Russian Violin Concertos
The Russian Archives Series (Brilliant)
Edward Huws-Jones' 'The French Fiddler'
Selected and arranged by Edward Huws-Jones. Boosey & Hawkes, violin part only, €9.85; complete, €18.95.
Eric Allen's 'Success in All Keys for Violin'
Edited by Elizabeth Coffman. Versions also available for viola, cello, and double bass. Better Bands and Orchestras, $19.95. 

Fall 2011 Auction Results

GL Cases Combi Violin Case
A stylish instrument case—unreasonably good at a reasonable price
Glière: 12 Duets for Two Violins
Muzyka Moscow, $13.95.
Hilary Hahn 2.0
Hahn sponsors composer contest
How to Achieve the Best Tone
ProMusica launches major recording project of newly commissioned works
How to Put an End to A violin's Squeaky E Strings in 3 Easy Steps
Understanding a violin's vibrations and connections can give you control when engaging the string
Jazz String Players Team Up
Bassist Christian McBride and violinist Regina Carter record together
Joseph Lin Starts Tenure with the Storied Juilliard Quartet
Violinist sees his latest job as something of a homecoming
Joseph Regh's 'The Art of Bow Restoration'
Review of a new, high-end guide to restoring bows
Largest Cello
Taiwanese artist Yu Jung-Hua has spent $16,000 making a 5.2 meter-tall cello (17 feet).  
Largest Playable Violin

Liverpool 1, Manchester 0

Lorin Maazel's 1783 Guadagnini Violin sold at Auction for charity
Sale of renowned instrument raises money for arts foundation  
Milestones
Distinguished bassist Anthony Bianco dies
Musical America Kudos
Cellist David Finckel and violinist Gil Shaham receive honors
Mysticism, Mathematics & Thimbles: the Cello Music of Sofia Gubaidulina
This fascinating composer has written extensively for the cello, often calling for extended-range techniques
New Master's Program Mixes Science, Tech & Violins
Stradivari Master of Science and Technology of String Instruments would have opportunities to work in acoustics research or in musical-instrument quality assessment and research, preservation, and music production.
Niccolò Paganini's Quartetto No. 12
Urtext edition. Musikverlag Zimmermann, $45.
Notable Women: Trios by Today's Female Composers
Lincoln Trio (Cedille).
Ohio Ensemble Helps to Create 'a Musician's Dream'
Learn to break down your stroke at different ranges of the bow in 5 simple steps
Power Play: How to Get More Volume
The pleasures and perils of setting up your instrument for a bigger sound
Quatuor Ebène's Mozart: Dissonances CD & Fiction—Live at Folies Bergère DVD
Special guest vocalists Natalie Dessay and Stacey Kent. (Virgin Classics)
René Morel, 1932–2011
Remembering A Master Restorer   
Reviving One of the UK's Great Lost Cello Concertos  
The Stanford Concerto is reborn in an upcoming critical edition  
Silent Symphony
Uttica Symphony cancels season
Sonoma Wire Works GuitarJack 2

South American Siblings Sizzle on Baroque Concertos & Sonatas
Sol and Andres Gabetta are light on their feet in a program filled with charm   
StradPet
Leather chin rest and violin cover
This 'Teenage' Contemporary Violin Continues to Captivate with Hidden Depths
A 1996 Marilyn Wallin that's been through hell and high water  
Triple Play: The Triolin is a Communal Experience
Because six hands are better than two
Violinist Ray Chen, Man on the Fast Track
Violinist Ray Chen, 22, rides into the limelight with a Romantic-era classic he first played at the tender age of nine
What Are the Best Strings for an Electric Instrument?
In a plugged-in world, the opportunity to explore different strings is limitless. Or you can play it safe. 
---
More from this collection