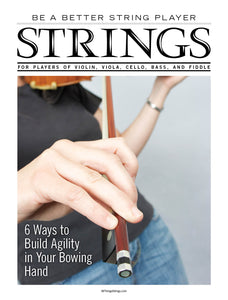 Be a Better String Player – 6 Ways to Build Agility in Your Bowing Hand
The Be a Better String Player series offers real-world advice and expert insight that will help improve your string playing.
The fingers of the right hand initiate three kinds of bow motion: vertical, horizontal, and pivotal. Feeling and understanding the differences between these motions will help increase the agility of your playing and give you more control in your bowing. Flexibility exercises that isolate the different types of motion are the best way to build agility.
This guide features 6 exercises for you to fold into your practicing routine—they're a great warm-up regimen.
---
More from this collection