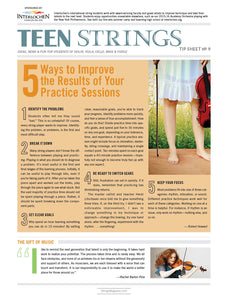 Teen Strings Tip Sheet #9: 5 Ways to Improve the Results of Your Practice Sessions
Teen Strings Tip Sheets get young string players excited and inspired about making music. 
This edition (sponsored by Interlochen Center for the Arts) includes 5 ways to improve the results of your practice sessions, violinist Rachel Barton Pine offers advice for the next generation of string players, 3 ways to fix, or at least control, a wolf tone, Strings contributor Laurel Thomsen on string crossings, and more.
Teachers take note: download Teen Strings Tip Sheets for free and share them with all your students. And feel free to make as many copies as you like.
---
More from this collection