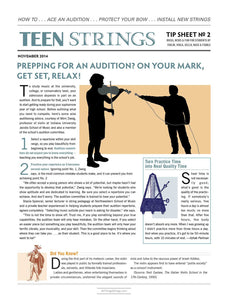 Teen Strings Tip Sheet #2: How to Ace an Audition
Teen Strings Tip Sheets get young string players excited and inspired about making music.
This edition includes a pair of effective audition tips from Mimi Zweig, professor of violin at Indiana University Jacobs School of Music and also a member of the school's audition committee, as well as advice on how to protect a bow and how to install new strings, an inspirational snapshot of British teen violinist Roberto Ruisi, and more.
Teachers take note: download Teen Strings Tip Sheets for free and share them with all your students. And feel free to make as many copies as you like.
---
More from this collection