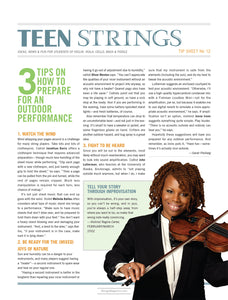 Teen Strings Tip Sheet #12: 3 Tips on How to Prepare for an Outdoor Performance
Teen Strings Tip Sheets get young string players excited and inspired about making music.
This edition (sponsored by Shar) includes 3 ways to improve your shifting skills, 4 tips on developing a warm, pure vibrato, improvisation inspiration from violinist Regina Carter, and more.
Teachers take note: download Teen Strings Tip Sheets for free and share them with all your students. And feel free to make as many copies as you like.
---
More from this collection