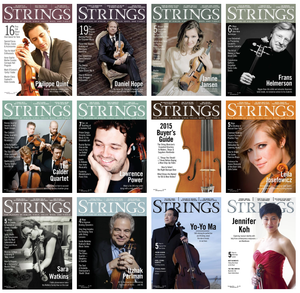 Digital Archive: 2015
Sale price
$29.99
Regular price
$71.88
Get a year's worth of Strings with this digital archive. Each issue covers the full spectrum of people, instruments, music, and ideas that matter to the vibrant community of string players.
Read interviews and profiles of artists like Phillipe Quint, Daniel Hope, Janine Jansen, Frans Helmerson, the Calder Quartet, Lawrence Power, Leila Josefowicz, Sara Watkins, Itzhak Perlman, Yo-Yo Ma, Jennifer Koh, and many more.
Conveniently packaged as PDF files, you can save each issue to your computer, tablet, or mobile for reading on or offline.
---
More from this collection