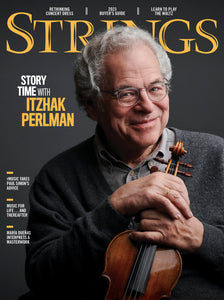 No. 313, July/August 2023
 Our cover story this issue checks in with eminent violinist Itzhak Perlman, who has been experimenting with a new concert program that blends music with storytelling. Inspired by a one-man show on Broadway, Perlman shares the music and some of the experiences that shaped him as an artist, including his appearance on the Ed Sullivan Show and what it was like to study with both Ivan Galamian and Dorothy DeLay. Elsewhere in this issue, you'll also find the annual Buyer's Guide.
 Also in this issue:
Cemeteries double as performance venues
yMusic dives into composing (on the advice of Paul Simon)
Jazz bassist Avishai Cohen releases an album 30 years in the making
A lesson on "Forget Me Not," Natalie Padilla's original waltz (music included)
Why musicians make the best arts fundraisers
 And more . . .
---
More from this collection