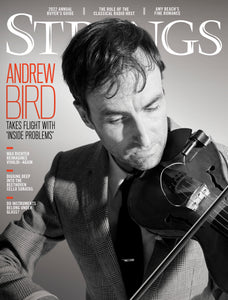 No. 307, July/August 2022
Our cover story this issue discusses the eclectic voice of violinist Andrew Bird, who is releasing a new album Inside Problems. From his sometimes literary inspirations—the album includes references to Joan Didion and Joyce Carol Oates—to his composing process, which, according to Bird, "takes forever," the conversation serves as a snapshot of a thoughtful artist on a journey. Elsewhere in this issue, you'll find the Buyer's Guide, featuring advice on buying an instrument at auction, selecting notation software, and adding a little sparkle to your setup.
 Also in this issue:
Do playable historic instruments belong in museums?
The enduring appeal of Beethoven's cello sonatas
Pondering the merits of an instrument re-grad
A reworking of Vivaldi's Four Seasons
Recovering from musician's focal dystonia
 And more . . .  
---
More from this collection