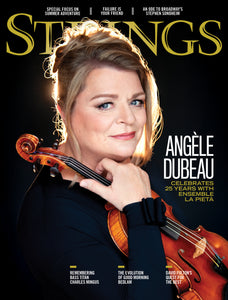 No. 305, March/April 2022
Our cover story this issue discusses the career of violinist Angèle Dubeau and the 25th anniversary of her all-female ensemble, La Pietà. To celebrate, they've released a recording, Elle, of music by all female composers, the majority of whom are contemporary. "It's been something I've wanted to do for years," Dubeau says. You'll also find the annual Summer Adventure special section, for those who are ready to plan some musical excursions through New York City and London. Camps and festivals also make appearances in this section.
 Also in this issue:
Exploring the legacy of Charles Mingus
The evolution of folk outfit Good Morning Bedlam
A personal appreciation of Stephen Sondheim's string music  
A tour of David Fulton's (now disbursed) fine stringed instrument collection
How to use failure to your advantage
 And more . . .
---
More from this collection