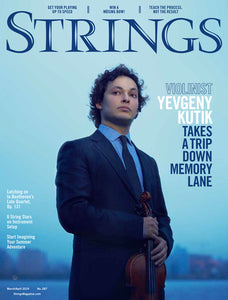 No. 287, March/April 2019
Special Focus: Summer Adventure
Musical Portraits
Violinist Yevgeny Kutik commissions 8 miniatures inspired by cherished family memories
By Greg Cahill
Go-To Gear
Six top players share their instrument setup and favorite gear
Compiled by Stephanie Powell
The Pinnacle of the Quartet Literature
Contemplating Beethoven's Op. 131 and its inexhaustible originality
By Thomas May
Multi-Style Sojourn
A musical tour through Cuba
By Stephanie Powell
London Calling
Strings' London correspondent offers an insider's guide to the best of the British capital
By Inge Kjemtrup
Music City Mash-Up
A visit to Nashville, Tennessee, will be defined by a delightful blend of musical styles
By Bob Doerschuk
Editor's Note
News & Notes
Violinist Tasmin Little retires from concert stage; violinist Nicola Benedetti awarded Britain's CBE; 5 Minutes with . . . Royal College of Music's Mark Messenger, and more
Shop Talk
Bow maker Rodney Mohr's love-at-first-sight moment with a Joseph René Lafleur bow
What's in the Case?
Double bassist Robert Black on his 1900s Brugere bass that won't win orchestra auditions
Tales of the Trade
Restorer Adam Pelzer combines patience, grit, and dedication to the craft
New Products
A pedal geared toward the acoustic-electric player
On My Music Stand
A cellist's approach to Brahms' Sonata in E minor for cello and piano
Rep Prep
Asking the right questions when approaching Campagnoli's 41 Caprices offers violists a window into the 19th-century player
My Studio
Vulnerability can be a key teaching tool—if you're willing to go there
REVIEWS
For the Record: Violinist Philippe Quint on a personal connection to his latest Chaplin-inspired recording. On Record: Cellist Maximilian Hornung brings life to a pair of underplayed cello concertos, and more.
---
More from this collection